Ruby arrives safely at ARK 2000!
RUBY!
Scroll down for photos
RUBY & HER NEW FRIENDS-- Update-July 25, 2007
RUBY AND HER NEW FRIENDS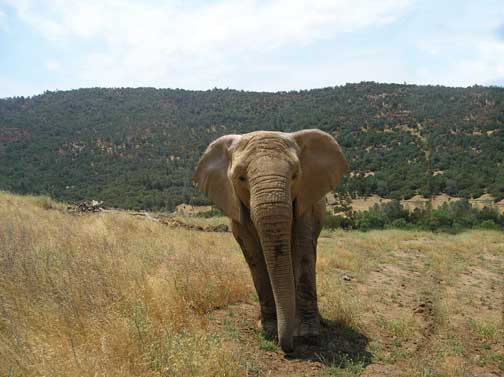 Captive elephants, unfortunately, have been deprived of the greatest joy for elephants—the herd, an extended family of mothers, aunts, nieces, cousins and grandmothers who teach, guide and support, with great love and respect, each new elephant from the moment they are born. Captive elephants have either seen their families slaughtered in their native country or, sadly, were born into the harsh atmosphere of captivity where traditional social relations are relatively non-existent. They survive by bonding with one or two individuals in a complicated process of selection which is often based on proximity and strength and has little similarity to the structured social order which is the heritage of all wild elephants. Socializing more than two or three captive African elephants is always our greatest challenge. Asian elephants tend to be more pragmatic about new relationships while Africans are cautious and intransigent in selecting their companions in captivity. Any mistake during socialization can produce problems that can be devastating. Before Ruby arrived, we carefully planned her introduction and socialization process, but plans often fail when elephants make their own decisions, despite our best efforts to create a happy little group. We have been quite pleased with Ruby's acceptance of 71, Mara and Lulu and their serious efforts to integrate one more stranger into their home. They all seemed to understand and respect the important rules of conduct and body language during their first encounter outside protective barriers, and those of us who were watching observed the trunk touching and posturing which is an important component of socialization. So far, so good, but nothing remains static for long in the world of captive African elephants, so we are cautiously optimistic that these four will remain "happily ever after".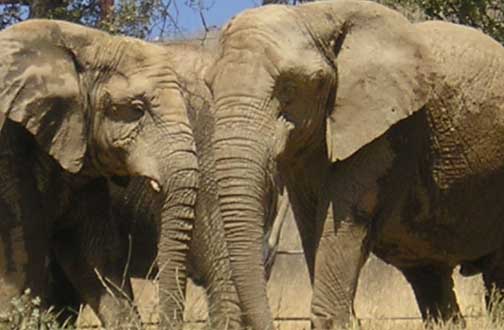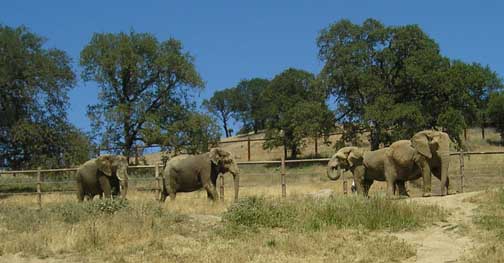 RUBY & HER NEW FRIENDS-- Update-MAY 25, 2007
Ruby, 71, Mara and Lulu are a cozy little group with everyone respecting the pecking order. Sweet Ruby is just like Mara, she just wants to get along and have fun, so 71 is still in charge and Lulu is allowed to indulge her "issues" and be bossy occasionally. The four are settling into a daily routine and every day is still an adventure.

After only ten days, Ruby has made a wonderful adjustment, and she has given us and the elephants the delightful gift of her lovely presence.

RUBY ARRIVES SAFELY AT PAWS ARK 2000 TUESDAY MAY 15TH

After a six hour journey, Ruby, the elephant, arrived at the PAWS sanctuary in San Andreas, CA. She was accompanied by her keepers, veterinarian, zoo officials and a van full of her favorite toys.

Ruby calmly backed out of the transport trailer and walked into the large African elephant barn acting like she had lived there for a long time. After an exploratory trip around the three stalls and a brief scan of the Jacuzzi, Ruby seemed ready to receive company, so Lulu came in first to greet her. The two became instant friends and Ruby actually backed up to Lulu who was allowed to be dominant for the first time in her life after years spent with an obsessively dominant female who never allowed her to make choices.

After Lulu and Ruby finished their greeting, we decided to open the gate for 71 and Mara who were waiting patiently to meet their new companion.

71 and Mara entered the barn and started the raucous welcome ritual that is peculiar to African elephants—bellows, trumpets, rumbles, squeaks and lots of spinning and urinating and defecating. Ruby calmly allowed the excited pair to reach out to touch her with their trunks. For the rest of the evening the excitement level was high and Lulu pranced up and down the hall checking Ruby carefully as she moved about.

Ed and I slept in the barn for the next two nights and the gentle rumbles and loud snores were a happy reminder that Ruby was a very welcome addition to our African family. On Wednesday, Lulu and Ruby were together in the barn, happily munching on hay and mud bathing like two old friends. Later, when Ruby went out into the yard, she laid down and pushed her head into the grass, then ambled over to the fence to join 71 and Mara. The three touched trunks to mouths, heads and butts and Ruby turned her back to her two new friends as they caressed her with their trunks.

The next morning, Ruby's keepers and we agreed that the elephants were making all the right moves for introduction, so we opened the gate and let 71 and Mara come into the yard with Ruby. The three spent the day together and returned very calmly to the barn that night.

Ruby has accepted all three of our elephants and has quietly taken her place among them. She is a lovely, gentle and intelligent elephant who seems to know how much we all care for her. 71 and Mara are delighted with their new friend, and Lulu is happier than she has ever been.

The Los Angeles Zoo staff—Jennie, Jeff and Vicki, have been incredibly helpful in effecting a smooth transition for Ruby. Their devotion to her and their concern is much appreciated by all of us at PAWS. The cooperation between PAWS and the San Francisco, Detroit and Los Angeles Zoos to help elephants is a welcome relief from the turmoil that often surrounds captive elephants and their welfare.

Thank you to everyone who helped bring Ruby to ARK 2000.

WELCOME RUBY TO YOUR NEW HOME AND NEW FRIENDS!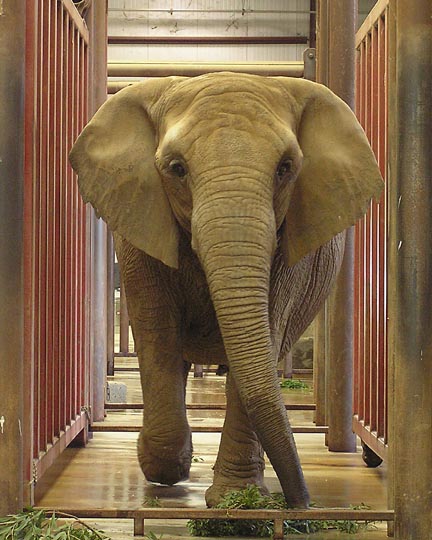 Ruby checks out her new barn.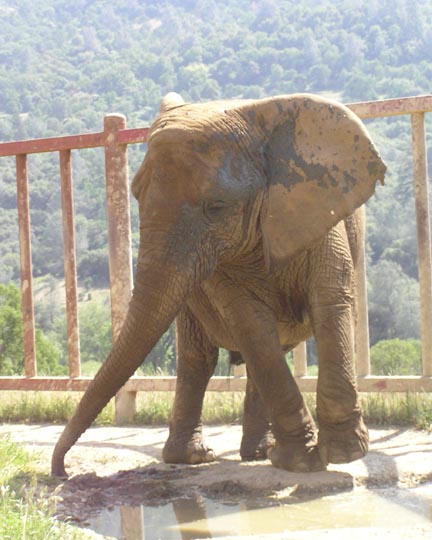 Outside the barn, what wonders await?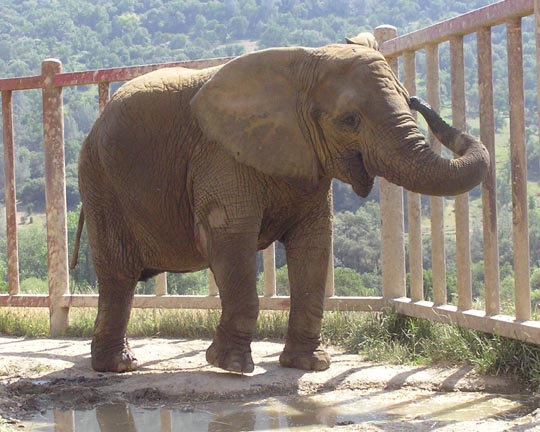 Are there other elephants around here?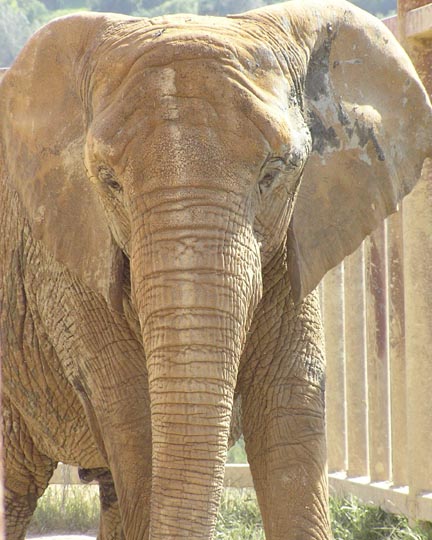 Sweet Face.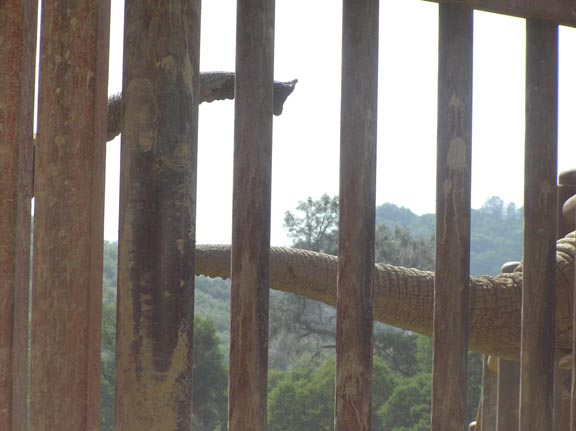 Yes there are other elephants! Hello!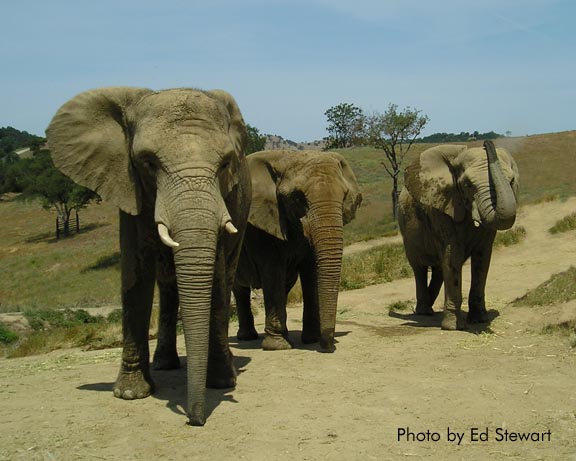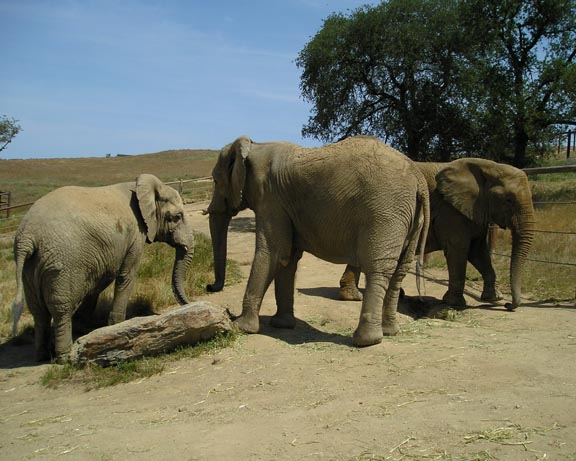 The Social Club! Mara,71,Ruby and Lulu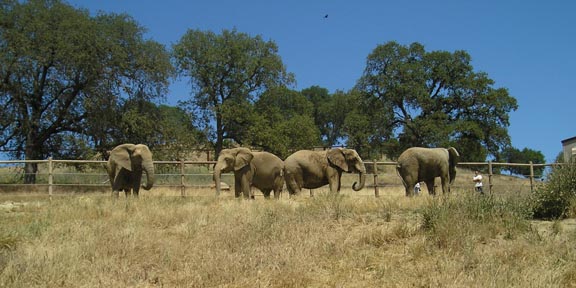 Mara, 71, ruby and Lulu having a fun day!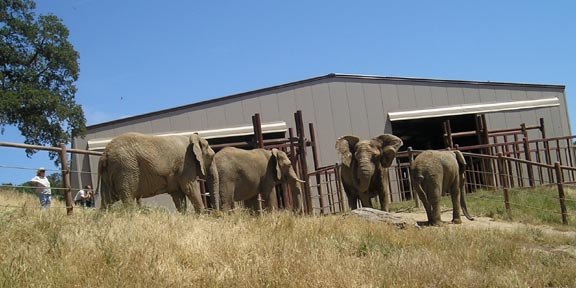 Ruby and Lulu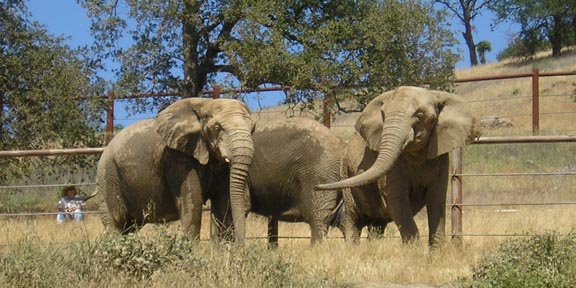 Mara Ruby and Lulu and 71(with tusks)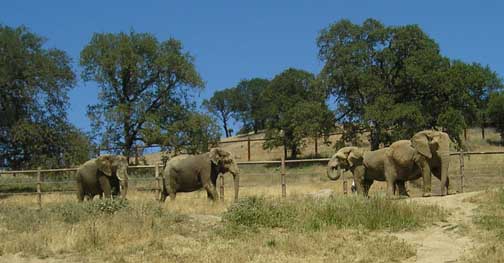 Ruby and Lulu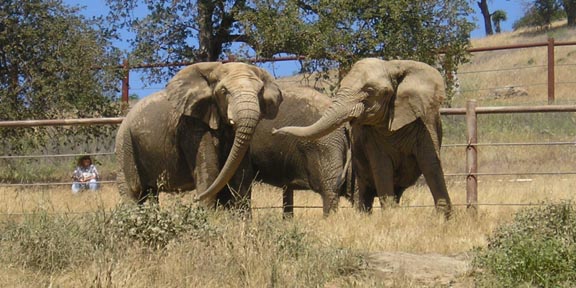 Ruby and Lulu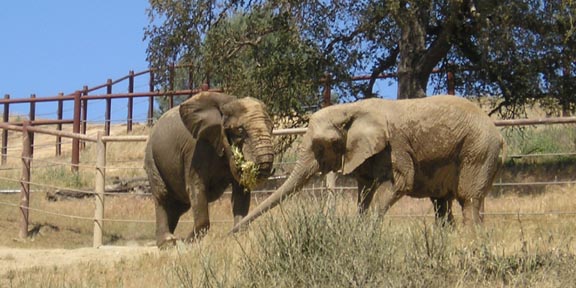 Splish, Splash I was takin a bath!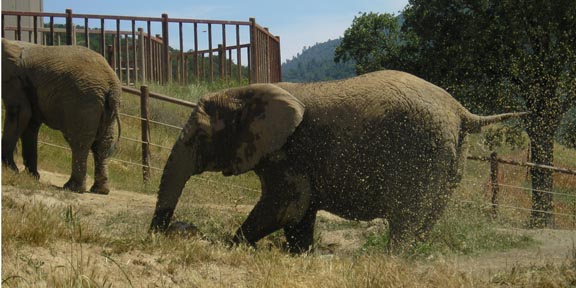 To all our supporters: Thank you for your emails about Nicholas and Gypsy and Ruby. We are posting updates as quickly as possible, and we hope that all who care about these elephants will appreciate the fact that PAWS spends the bulk of our budget on the animals with overnight keeping staff taking precedence over office staff, so our updates may be delayed as we devote all our time to caring for new arrivals. Please take a moment to read our article "Rescuing Animals" in our last newsletter which is posted on our web site. Successful introductions to new surroundings and companions is not an easy project, and our staff spends long hours ensuring the comfort and safety of each elephant which sometimes leaves little time for public relations and fund raising campaigns. We appreciate the concern and devotion of all who care about the elephants, and we hope you will appreciate the long hours that we spend in physically caring for them 24 hours a day, 7 days a week. Please be patient, we are trying to get news out as quickly as possible.


PAWS ANIMALS T-SHIRTS! CLICK HERE!
J.C.'s Webpage HOME!